1
« on: March 27, 2019, 01:56:50 PM »
Day 28. The mold castings are still at only 70% or so of what I know they can enlarge to. Something's got to be wrong.
My first plan of attack: Relocate the Hydrospan parts to a spot where I can add an electric fish tank heater. It's recommended the water stay around 70 degrees for proper absorption. Maybe my water's been too cold.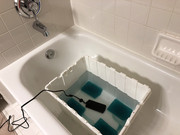 If that's unsuccessful, it looks like I'll have to see if I can devote some of this month's paycheck to buying another round of Hydrospan and trying again. Maybe I messed up the A to B chemical mix. I might also try a suggestion I found online that recommends inserting plastic rods into the backside of the uncured hydrospan as it sits in the mold. Once removed, that should allow channels to form in the denser areas into which water can more easily penetrate later on.
What would be really be helpful would be knowing exactly what size & scale the real Netflix Crow's hands were grown to. ...Would anyone have a chance to hit the Atlanta puppetry museum with a ruler and get me those measurements? LOL