1
« on: February 15, 2019, 01:02:57 PM »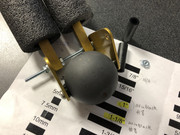 Having re-circled the wagons, I've now come to a new crossroads in regards to scales and sizes of certain element in the arms. I bought the new smaller sized hardware and reconstructed the arms based on the configuration seen in the ACPA photos I shared above.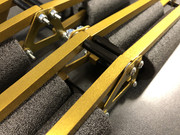 I'm now confident in the following changes to the Netflix arm recipe (again, based on the known measurement of the square dowel rods being 3/8"):
-The spacers in between the arms are thinner than I previously had used and are now 5/16" in diameter
-The spacer lengths (and uniform space between the square dowels) are either 1" long or 1-1/8" long. This may seem like a small difference but it adds up in a huge way in regards to the size of another part which I will detail in full further on...
-The size of the machine screws and lock nuts used are now 6-32
-There are 22 #6 washers used throughout the build of one arm
-The machine screw lengths would ideally be 2-1/4" but to date, I haven't found any sold in that length for that gauge. That length must then be achieved via cutting longer screws (in the case of those pictured, 2-1/2") down to preference. A shorter 2" screw WILL NOT work for either possible width configuration. I tried them.
Due to my uncertainty in the exact length of the black nylon spacers, but now fully confident in the configuration of screws, nuts, washers, dowels and lamp joints, I have found that the precise
diameter of the wrist sphere
is what subsequently gets thrown into question.
I built one arm using the 1-1/8" spacers and the other using the 1"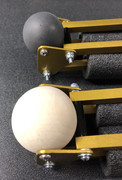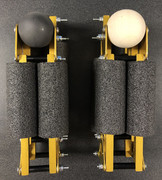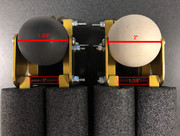 You can see by the photos that if the 1" spacer is the right size, then the 1-3/4" sphere fits perfectly between the styrene wrist joints (no nylon washers required). If instead the 1-1/8" spacer is the correct size to use, then the gap between wrist joints is now much too large for the smaller sphere- However the next size up, a 2" sphere, now fits perfectly between the joints.
So what to do? Both look okay to me just by eye. What I believe will help break the tie is seeing what a full-sized set of enlarged grabber-claw hands look like in comparison to each sphere. To achieve a set of those means these arms are now on complete hold and it's time to get cracking on the molding and casting of the hands with the expanding resin.