91
Hereís a brief rundown on how to make the puppet arm-rods. I determined the rod itself from handle to the base of the hand is 20Ē. The method Iíve always seen puppet arm rods be built (and previously made myself) hasnít changed much over the years and looking at the photos, they seem no different with Crow.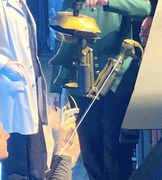 Knowing that, Iím going to recommend buying & cutting yourself a pair of 1/8Ē steel rods at 22Ē to allow some working space in both the handle and the hand. Bend about a ľĒ inch of one of the ends on each rod in a vice.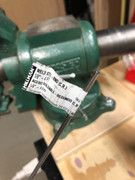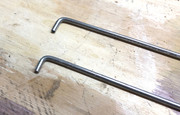 Get yourself a length of 5/8Ē square wooden dowel. Cut two 5Ē length pieces and sand all the edges -both top, bottom, and sides- so that they are rounded enough to hold comfortably. Drill a 1/8Ē hole through the dead center of each dowel about an inch down from one of the ends.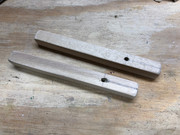 Use a Dremel to carve out a channel from the hole to the end of the dowel deep enough so that the bent ends of the rods can fit into the drilled hole and also sink into the channel just far enough to be below the surface of the dowel.

Use a two-part epoxy glue to fill in the channels and set the rods. Cover the tops of the rods with the epoxy as well and let it cure. The epoxy comes in different cure times based on what you choose. I prefer a 5 min. set times myself but itís available in much quicker.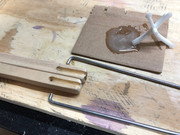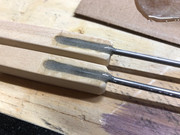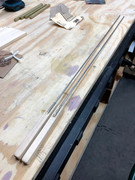 Once thatís set, go ahead and paint them flat black. You can then also wrap the handles in Gaffers tape to make the grips even better for handling.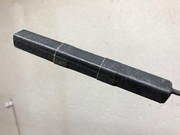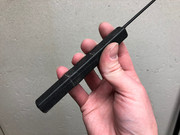 And thatís it! Youíre good to go on whatís probably the easiest and cheapest component of the Netflix arms.